#GradTime (2017)
The Progressive Wave Experience.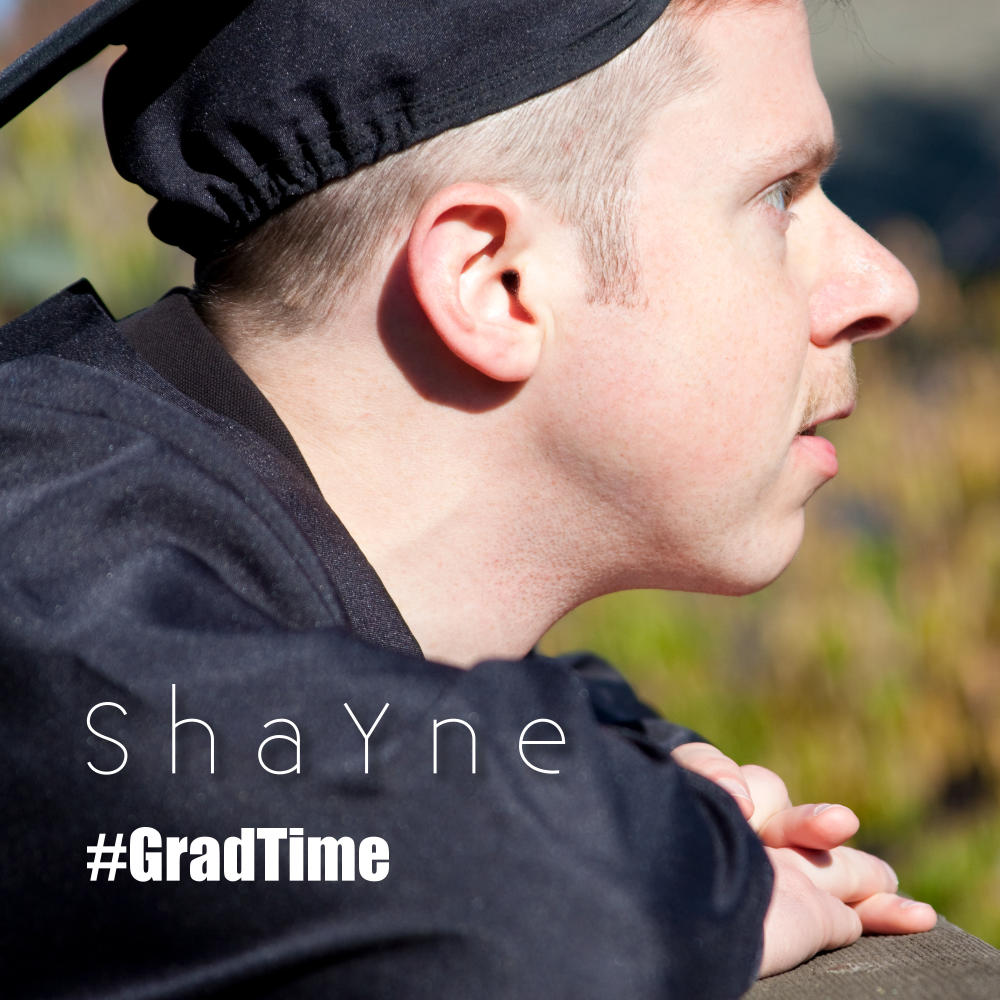 Building on ShaYne's groundbreaking 2016 album Broader Range, #GradTime is the next leap forward. While nodding to the current "synthwave" fad currently sweeping the electronic music scene, this EP carries it a step further. Or two. Or three! Combining the best of analog and digital sounds and recording it all at high-definition 96KHz digital audio, this EP experiments with dynamics as well. You have your punch-through dance energy combined with moments of pulling back, forcing your ears to pay attention to what's going on behind the scenes. Some sounds drop by -20 or -30db. Where did those sounds come from? Listen again.
What is "progressive wave'? Yes, you begin with the '80s dream-synth vibe, but instead of trying to recreate what Gen-Xers had – which is what current synthwave artists are trying to do – you move it on to Gen-Z. Twist it up. Chop up the vocals. Raise it up. Bring it down. Make it different. Forget the cheesy lo-fi '80s sounds – everything now is hi-fi and alive. Look for NEW sounds. No tired old Linn-Drums or TR-808!
Welcome to the Progressive Wave Experience.
Available NOW in HD 96KHz/24-bit AIFF and FLAC exclusively at Bandcamp. Available soon in standard CD-quality at other online outlets.
Track listing:
Classroom 0:41
Kawlhedge Stewdints 4:26
Biodiversity 5:19
The Four Winds 4:46
They Tower Above Us 8:44
#GradTime (Continuous Mix) 23:25
Equipment used:
Analog:
Dave Smith Instruments Mopho X4 & Tetra polyphonic synthesizers
Roland Juno-106 polyphonic synthesizer

Synthesizers.com modular synthesizer
Ibanez AP-7 phasers
MXR Analog Chorus

Boss DM-2w delay
Boss BD-2 Blues Driver
Digital:
Cakewalk Sonar Platinum DAW
Plogue Alter-Ego voice synthesizer featuring "Daisy" and "Bones"
Izotope VocalSynth
Izotope Stutter Edit

Native Instruments Absynth




Native Instruments FM8




Waldorf Attack drum synth




InEar Display Ephemere FM drum synth

Cakewalk Rapture

CWITec TX16Wx sampler



LiquidSonics Reverberate Core Convolution Reverb
Many other VST plugins
All tracks composed, recorded, and mastered by Shayne White using Cakewalk Sonar Platinum in Santa Rosa, CA, USA. Photography and artwork by Shayne White. Copyright © 2017 Blazing Edge Productions.